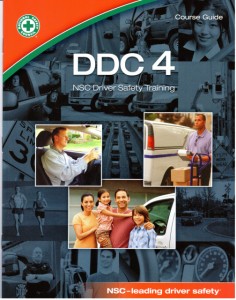 About the Course
This two-days training course is certified by the National Safety  Council (NSC), and it provides key understanding, skills and techniques to avoid collisions, reduce traffic violations and change driver behaviors and attitudes.
Participants will acquire the basic knowledge and techniques to recognize potential hazards and avoid collisions and violation. The course will motivate them to change their behind the-wheel behaviors and attitudes. Attendees will learn coping techniques for dealing with speeding, distracted driving, impaired driving, and hazardous traffic conditions and more. The result will be a more responsible driver who understands best practices to prevent injury and death while driving a motor vehicle.
It is supplemented with a practical day (NSC – DDC 1-on-1) to provide optimum benefit to the attendee.
Course Outline
Defensive driving techniques
Hazard recognition
How to avoid a collision, with case study scenarios
How driver behavior and mental conditions affect safe driving
Crash impact on passengers
The "Fatal Four" causes of crashes
Driving skills inventory and assessment
Emotional impairment, common driving irritations, and "pet peeves"
Aggressive driving
Road rage
Fatigue and drowsy driving
Vehicle maintenance and pre-trip inspection
Wheels and tires
Local Driving Culture
Practical Training and Assessment
Who Should Attend
This popular course is suitable for anyone who knows how to drive a vehicle. It is designed for drivers, fleet supervisors, company employees, and HSE managers.