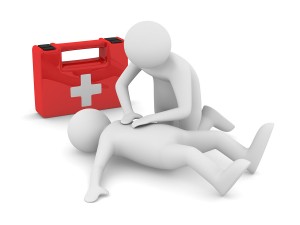 About the Course
Knowing how to respond to a first aid is one of the most important skills a person can possess. This two-day awareness course (1 day theory and 1 day practical) delivers proven and standardized method of learning first aid techniques effectively. It follows the recent Emergency Care guidelines for emergency care in the workplace. First Aid awareness course will train employees on the latest skills, techniques and expertise in life-saving procedures. This course teaches first aid techniques through a combination of Instructor, "Watch-Then-Practice", and hands-on training. Upon completion of the course participants will be able to recognize an emergency, act appropriately, and sustain life until professional help arrives.
Course Outline
Introduction to First Aid
Examining the victim
Heart attack
Cardio-Pulmonary Resuscitation (CPR)
Chock
Bleeding and wound care
Shock
Burns
Bone fractures
Heat exhaustion and heat stroke
Eye injuries
Snake bites
Who Should Attend
This course is ideal for emergency response teams, HSE personnel and supervisors, all employees, floor wardens, and general public.
PUBLIC
Next Date
[ftcalendar_post_schedule]
IN HOUSE
we can deliver this course to you at the time that suits you either at our Training Center or your office